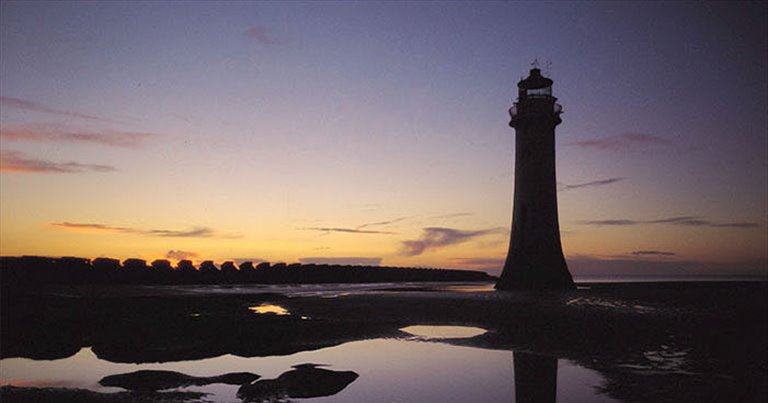 Things to do in New Brighton
When Liverpool merchant, James Atherton purchased 170 acres of land in 1830, he wanted to build a desirable residential location and seaside resort for the gentry, in a similar way to Brighton. With a brand-new resort, complete with iconic tower, ballroom and pier, there was only one name he had in mind – New Brighton.
Nowadays, New Brighton is a thriving seaside town which retains its traditional touch. It's a popular destination for families, walkers, cyclists, water sports enthusiasts and those looking for a bit of nostalgia. Not to be missed on your visit to Wirral, check out our list of things to do.
Listed third in The Guardian's feature on the world's most sensational minigolf courses, Championship Adventure Golf is a fun, family friendly day out featuring a course with a number of Wirral landmarks such as New Brighton Lighthouse! If you've dreamt of playing on some of the world's most famous courses, including St Andrews, your details will come true – you can take on miniature versions of the world's most famous courses.
Take in the town's history at Fort Perch Rock
Fort Perch Rock was built as a coastal defence battery to protect the Port of Liverpool during the Napoleonic period. Although it is closed to the public, you can take a stroll around the outside of this magnificent building which has played a pivotal role in Merseyside's history.
Marvel at the iconic New Brighton Lighthouse
One of Wirral's most famous landmarks, New Brighton Lighthouse stands 95ft tall and is modelled after the trunk of an oak tree. The current lighthouse, built in 1830, was in continuous use until it was decommissioned in October 1973. With New Brighton Beach surrounding it, sunrise and sunset makes the perfect times to catch stunning photographs!
Explore New Brighton's Victorian Quarter
No visit to New Brighton is complete without talking a walk around the Victorian Quarter. Head to Victoria Road for plenty of cafes, bars and restaurants along this creative street and wander around the surrounding area.
From a vinyl record store, charity shops, quirky independents and more – there really is something for everyone.
And the amazing New Brighton Street Art
Check out the mouth-watering food and drink scene
If you like a bit of everything, check out Marine Street Social – a venue with a number of different food retailers which is perfect for groups or those who have difficulty choosing what to eat. The venue also is also live entertainment
Marine Point is home to big name brands like Prezzo, Bella Italia and Pizza Express, whilst New Brighton offers independent eateries such as The Sea Shanty, Driftwood Café, The Olive Tree Bistro, Habibi, and Portofino. If you fancy a tipple, head to Victoria Road and check out The Bow-Legged Micro Pub, Homebrew Tap, The James Atherton, and Perch Rock.
The iconic Floral Pavilion Theatre is Wirral's largest theatre venue and regularly hosts comedy shows, performances, pantomimes, plays and more! Situated right on the promenade, the 800 seat venue is applauded by comedians Jason Manford and John Bishop. The building also has a dog friendly café complete with treats for your four-legged friend.
Relax at the beach
New Brighton Beach is a true highlight of the town, with views of Sefton and Liverpool, it's the perfect spot to relax on a sunny day. If you're not a fan of the beach, head to Vale Park to enjoy views across to Liverpool without the sand.
Have a picnic in a park
Opened in 1899, Vale Park is a stunning Victorian Park complete with a rose garden and a bandstand. A hub for the community, there are regular events and performances in this much-loved space.
Perfect for any day of the year, Caffe Cream serves up a range of exciting ice cream flavours - and they've won countless awards to prove it!
If you believe in mermaids then New Brighton is the place for you! New Brighton Mermaid Trail sees five identical mermaid statues sculpted by a local artist and decorated by local schools groups dotted around the town. Find out more here.
Enjoy some family-friendly entertainment
Unleash your inner competitor and challenge your friends and family to a duel at Riverside Bowl & LaserQuest. For the little ones, Bubbles World of Play is the largest indoor play area for under 12's in the UK - and it's only down the road!
Discover hidden myths and legends
From excursions in a secret WW2 tunnel to hunting for ghosts, Hidden Wirral Myths & Legends Tours offer an insight into days gone by. The secret underground WW2 tunnels date back over 200 years and has seen smugglers, a munitions factory and a nightclub call it home.
Catch a blockbuster film
Light Cinema at Marine Point is home to the latest blockbuster films as well as arts, opera, theatre and dance films. With a regular events programme, they go above and beyond to make your trip to the cinema extra special.
Search Attractions & Activities