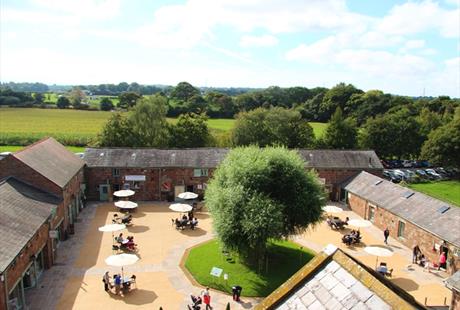 Address/Location
Brimstage Road
Brimstage
Wirral
Merseyside
CH63 6JA
Contact
Brimstage is a beautiful village set in an idyllic countryside location at the heart of the Wirral. Easy to find, it's just 1 mile west of J4/M53 - follow the brown signs.

Standing at the geographical centre of Wirral is Brimstage Hall which oozes charisma and is steeped in history and legend.

There is no full record of when the Hall was built but it was erected within the centre of an original fortified area which was enclosed by a moat and high embankment.

Expert opinion dates the Hall at between 1175 and 1350, and the first recorded occupant was Sir Hugh Hulse and his wife Marjorie who were granted the right to build a Chapel on 11th February 1398. You can visit the Chapel with its vaulted ceiling and carved corbel which shows - some say - a Cheshire Cat, possibly the inspiration for Lewis Carroll's creature in the 'Alice in Wonderland' story.

Today Brimstage Hall & Courtyard is a shopping centre where relaxed, countryside ambience is a welcome change from the hustle and bustle of larger shopping villages and the High Street.

Sample the home cooking of the Country Mouse restaurant or take afternoon tea on the lawn. Enjoy browsing art from local artists, gifts, ladies fashions, beautiful flowers, and children's shoes. Deborah Alfa is an Award-winning hairdressing salon and there are beauty options too. The WargameStore at the Forge is proud to have the UK's largest range of wargames items in stock. For families Brimstage Maize Maze & Maizy Moo's Madhouse is open every day from mid-July to September with a soft-play barn, agility trail and tractor & trailer rides too.

Check out the fly-over aerial guide to the Brimstage under the 'Video' tab.

Opening Times
Open
(1 Jan 2023 - 31 Dec 2023)
What's Nearby
The Thatched Pavilion, set within the grounds of Thornton Manor, boasts 2 double…

0.79 miles away

Four Star - Excellent Location - Various function/conference rooms - 63 bedrooms - health…

1.5 miles away

An Edwardian country house situated in its own grounds, located on the edge of the…

1.54 miles away
Previous
Next