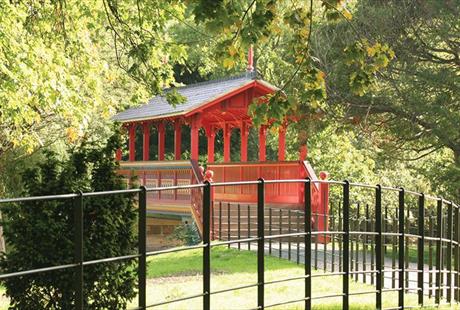 Address/Location
Birkenhead Park Visitor Centre
Park Drive
Birkenhead
Merseyside
CH41 4HY
Contact
Gradings
VAQAS VB Attraction VAQAS
Author: Visit Wirral
(Swiss Bridge photo from Wirral Met College)
Birkenhead Park is an incredibly special place: a masterpiece of landscape design. Since it opened in 1847, this extensive parkland has provided a much-needed sanctuary for people to escape the busy urban environment. The Park's designer, Joseph Paxton, created a place which replicated the pastoral countryside, while at the same time incorporating an assortment of features such as lodges, bridges, and a boathouse. All this is still very much evident today, and visitors can enjoy the delights of the varied landscape – the open meadows and the intimate lakeside walks – and discover the parkland's many treasures.
The Park offers a wide range of facilities, including a Visitor Centre with a café, a playground for children, beautiful woodland walks, a fitness trail, two cricket clubs, tennis courts, bowling greens, football pitches and 2 large fishing lakes.
A day out at Birkenhead Park offers something for everyone, and all within the grounds of one of the most important public parks in the world!
Have you visited Birkenhead Park? If so, we would love it if you could fill out our Birkenhead Park visitor survey. This will help us to improve your experience of the Park.
History:
Birkenhead Park is one of Britain's foremost historic parks, and indeed, is a pioneer in the development of public parks across the world. In the rapidly growing industrial town, the idea of creating a park which would be freely accessible for everyone to enjoy, was a real innovation. At Birkenhead Park, the barriers of social class, age, and colour were non-existent. When F.L. Olmsted – who later went on to design New York's Central Park – visited the new Park in 1850, he was amazed by this 'People's Garden' where 'the poorest British peasant is as free to enjoy it in all its parts as the British Queen'. The ideas and principles which the creation of Birkenhead Park embodied were so revolutionary that Olmsted took them back across the Atlantic, applying them initially in his design for Central Park, and then subsequently for many other parks across the United States.
Environment:
Birkenhead Park provides to a rich and diverse range of wildlife habitats, providing a 'natural' corridor connecting populations of wildlife in the surrounding areas. It offers respite to migrating birds such as the tufted duck, common merganser, pochard and Canada goose, as well as providing a habitat for its own resident wildfowl including: swans, mallards, coots, moorhens and the grey heron keeping an eye out over the lakes for a tasty fish to eat.
The Park hosts at least three thriving species of bats, and is home to a wide-ranging population of wild birds – it is not uncommon to spot Blue Tit, Coal Tit, Long Tailed Tit, Goldfinch, Tree Creeper, Nut hatch, Woodpecker, Jay. You may even spot a kingfisher or two on the lakes!
Standing and fallen deadwood along with the healthy combination of deciduous and evergreen tree species such as Oak, Yew, Beech, Cedar, Cyprus, Maple, Hawthorne and Cherry, contribute greatly to the habitats found within Birkenhead Park. You may also spot some more unusual tree species in the Park such as the Strawberry, Cucumber and simple-leaved Ash trees among others.
Designations and Awards:
Today, Birkenhead Park is a Grade I listed historic landscape as well as being designated as a conservation area. It contains many listed buildings and structures, including the Grand Entrance which is listed at Grade II*.
The Park is recognised as a site of excellence by Green Flag and holds the prestigious Green Heritage Award, as well as being awarded a Large Park's Gold Award by the World Urban Parks organisation. It is such a special place that Wirral Council, with the support of the Friends of Birkenhead Park, is currently seeking its inscription as a UNESCO World Heritage Site.
Opening Times
Open
(1 Jan 2023 - 31 Dec 2023)
What's Nearby
Golf friendly, modern Bed and Breakfast on the edge of 90 acres of woodland. Only 5 miles…

1.32 miles away

A historical building, with refurbished facilities and rooms to provide every comfort for…

3.3 miles away

Village Hotel Wirral - where cutting-edge style meets everyday affordability.

3.82 miles away
Peel Hey is an award-winning 4 star gold Victorian country house offering luxury bed and…

4.38 miles away

Luxury 5 star hotel nestling in 250 acres of beautiful Wirral parkland and overlooking…

4.68 miles away

The Thatched Pavilion, set within the grounds of Thornton Manor, boasts 2 double…

4.83 miles away

An Edwardian country house situated in its own grounds, located on the edge of the…

4.98 miles away

Modern, clean and comfortable 4 star accommodation with ample parking and free wi fi.

5.41 miles away

The Waves, a beautiful three bedroom apartment a stone's throw from the beach, sleeps 6,…

5.52 miles away

Four Star - Excellent Location - Various function/conference rooms - 63 bedrooms - health…

5.55 miles away

Northvilla Apartments comprises of 2 separate executive apartment blocks all located in…

5.59 miles away

Award Winning, Luxury bed and breakfast offering exceptional service and facilities, with…

5.99 miles away

The Ship offers great en-suite accommodation at an affordable price and with Wifi.…

7.23 miles away

A unique and charming Edwardian country house hotel nestled in 38 acres of exquisite…

8.66 miles away
Previous
Next