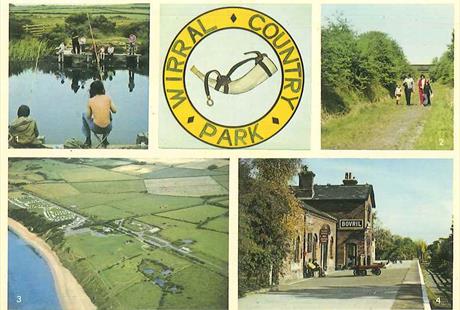 Address/Location
Station Road
Thurstaston
Wirral
Merseyside
CH61 0HN
Contact
Wirral Council has been developing an events programme for the celebration of 50 years of Wirral Country Park. The programme includes events specific to the anniversary year, as well as ongoing events and those coordinated with national and international awareness days. The preliminary events list can be seen in the "Opening Times" tab in conjunction with provisional dates. Please note however that the events list and the associated dates are subject to change and will be confirmed closer to the time. Additionally, as more events are finalised, it is likely that the list will grow.
Opening Times
Wirral History & Heritage Fair - Hulme Hall
(25 Mar 2023)
Little People Easter Bunny Dash (Ages 8 and Under) - Flissy's Coffee Shop, Thurstaston
(25 Mar 2023)
Wirral History Photographic Display - Thurstaston Centre (Theatre) Hadlow Road (Date TBC), Ashton Park (Date TBC).
(1 Apr 2023 - 28 Apr 2023)
WCP Memorial Stone Re-dedication by the Mayor - Thurstaston
(3 Apr 2023)
Totally Wild Food Foraging Day - Thurstaston
(5 Apr 2023)
Under 18's One Mile Race - Thurstaston
(11 Apr 2023)
Totally Wild Foraging Day - TBC
(29 Apr 2023)
Ashton Park May Fair - Celebrating 50 Years of the Wirral Way - Ashton Park
(1 May 2023)
Birkenhead Scouts Challenge Weekend - Wirral Country Park Campsite
(1 May 2023 - 31 May 2023)
Wirral Walking Festival (specific events to be organised nearer the time) - Various locations across Wirral
(1 May 2023 - 31 May 2023)
Wirral Way History Exhibition- West Kirby Museum
(1 May 2023 - 30 Sep 2023)
International Dawn Chorus - Thurstaston/Dungeons
(7 May 2023)
Hadlow Road Station Kings Coronation/WCP 50th Anniversary Celebrations - Hadlow Road Station
(7 May 2023)
4th Heswall Sea Scouts Camp* - TBC
(19 May 2023 - 21 May 2023)
Moth Night - Thurstaston Visitor Centre
(25 May 2023)
Totally Wild Food Foraging Day - Thurstaston
(27 May 2023)
Wirral Studio Tours - Thurstaston Visitor Centre
(1 Jun 2023 - 30 Jun 2023)
Ashton Park Concerts - Ashton Park
(1 Jun 2023 - 1 Sep 2023)
Wildflower Art Installation- Thurstaston Visitor Centre
(2 Jun 2023 - 2 Jul 2023)
Bicycle Day - Wirral Way (from Thurstaston)
(3 Jun 2023)
Totally Wild Food Foraging Day- Thurstaston
(4 Jun 2023)
World Environment Day - TBC
(5 Jun 2023)
Rotary Wirral Coastal Walk - Wirral Way
(11 Jun 2023)
Totally Wild Food Foraging Day- Thurstaston
(15 Jun 2023)
Birkenhead District Cub Camp* - TBC
(23 Jun 2023 - 25 Jun 2023)
Totally Wild Food Foraging Day- Thurstaston
(30 Jun 2023)
Wedding Reception on Campsite - Wirral Country Park Campsite
(6 Jul 2023 - 19 Jul 2023)
Cheshire Steamers - Wirral Way (Gadlow Road to Thurstaston)
(14 Jul 2023 - 16 Jul 2023)
Wedding Reception on Campsite* - Wirral Country Park Campsite
(20 Jul 2023 - 24 Jul 2023)
Totally Wild Food Foraging Day- Thurstaston
(22 Jul 2023)
Totally Wild Food Foraging Day- Thurstaston
(27 Jul 2023)
World Ranger Day - TBC
(31 Jul 2023)
Wedding Reception on Campsite* - Wirral Country Park Campsite
(10 Aug 2023 - 14 Aug 2023)
Totally Wild Food Foraging Day- Thurstaston
(11 Aug 2023)
Totally Wild Food Foraging Day - Thurstaston
(19 Aug 2023)
International Bat Night - Possibly Wirral Way at West Kirby
(26 Aug 2023 - 27 Aug 2023)
Heritage Open Days - Thurstaston, The Dungeons, Dawpool
(1 Sep 2023 - 30 Sep 2023)
Totally Wild Food Foraging Day - Thurstaston
(16 Sep 2023)
Wirral Way Entranceway Unveiling- Grange Road entrance to Wirral Park
(2 Oct 2023)
Endurance Horse Ride - TBC
(9 Nov 2023)
National Tree Week - TBC
(16 Nov 2023 - 30 Nov 2023)
Wirral Way Santa Dash - The Wirral Way
(3 Dec 2023)
Thurstaston Multi-terrain Challenge- Thurstaston
(3 Dec 2023)
What's Nearby
Luxury 5 star hotel nestling in 250 acres of beautiful Wirral parkland and overlooking…

1.37 miles away

Award Winning, Luxury bed and breakfast offering exceptional service and facilities, with…

1.72 miles away

Peel Hey is an award-winning 4 star gold Victorian country house offering luxury bed and…

1.95 miles away
Previous
Next