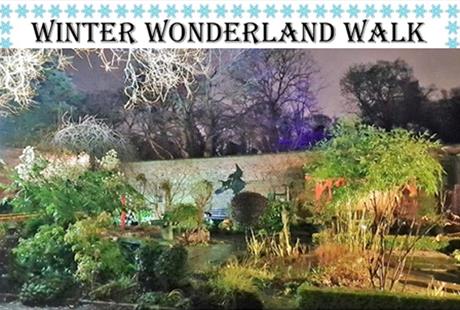 Address/Location
Poulton Road
WIRRAL
Merseyside
CH63 9LN
Contact
Visitors will be greeted by a Witch and ushered through a wardrobe into the illuminated gardens, inspired by Narnia, Neverland, Middle Earth, Wonderland, Camelot, and other worlds of the imagination.

The walk is 3/4 mile (1.2kM) and takes about an hour. It is suitable for all ages, being entirely flat. Dress warmly!

There is a one way Covid secure route, with signs, and a printed list of landmarks. Entry is bookable at 10 minute intervals.
Santa will be there. Hot chocolate, squash, and gingerbread men are included towards the end of the walk, and a Storyteller will send you on your way through the ornamental beech woodland.
Poulton Hall is at CH63 9LN and the entrance is at the junction between Poulton Rd. and Poulton Hall Rd.
What's Nearby
An Edwardian country house situated in its own grounds, located on the edge of the…

0.62 miles away

Village Hotel Wirral - where cutting-edge style meets everyday affordability.

1.59 miles away

Four star boutique hotel in picturesque Port Sunlight village on the beautiful Wirral…

1.99 miles away
Previous
Next