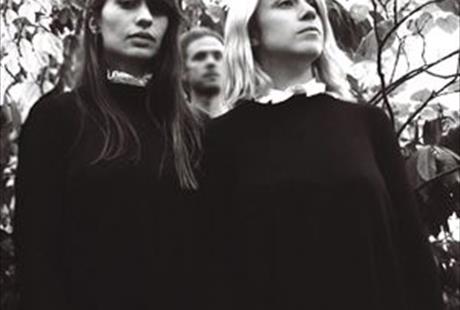 Address/Location
Birkenhead Central Library
Borough Rd
Birkenhead
CH41 2XB
Contact
RESCHEDULED
French indie group, Juniore are bringing the best new alternative pop to Birkenhead Library in April 2021, in collaboration with Get It Loud In Libraries.
Formed in Paris in 2013, Juniore is made up of lead singer Anna Jean, drummer Swanny Elzingre and 'Le Chose' (translated as 'The Thing') – a multi-instrumentalist cloaked in a silver mask. The band is the brainchild of Anna Jean who, before Juniore, was in a folk band with friend, Samy Osta. Growing tired of playing only sad songs, Jean longed for "a fun band, a band where we could inject everything we love about the world" (Conversations With Bianca). That's how Juniore was born: out of a desire to create fun.
With lyrics about being sleep deprived, restless or falling out of love, Juniore creates 'sensual French melodies drowned in reverb' (France Rocks). Their EP, Marabout, released in 2015, acts as an homage to French 60's pop - yé-yé – and contrasts the dark malice of the opening track, Mon autre with the more American sounding pop and surf on standout track, A la Plage. Their unique combination of Sixties beat music with a sinister edge, which they coined 'yé-yé noir', came into full force on follow up album, Ouh là là, released in 2017. Latest single, Magnifique, sees Juniore 'come close to perfecting a formula that sees post-punk rhythms infiltrate the classic vocal styles of Francoise Hardy and Frances Gal' (Drowned in Sound). Although the band formed in 2013, this unique sound has made Juniore 'easily one of the most exciting bands to emerge' in 2018 (Hackney Citizen).
2019 saw the band support The Dandy Warhols on their 25th anniversary tour and appear at a number of international festivals including Sziget Festival, Bluedot and Kendal Calling. Their own headline European tour in Spring received rave reviews. At Rough Trade, Bristol, Juniore 'had enraptured the crowd with their effervescent and cinematic garage psyche to such dizzying heights that you emerged… with an instant yearning of being transported back to their radiant world' (Tap The Feed). Prepare to be enraptured, Birkenhead.
Audiences across England, Scotland and Wales are discovering the potential of libraries as unique, intimate music venues that give people of all ages the rare chance to get up close and personal with upcoming artists, thanks to Get It Loud In Libraries. In fact, the programme boasts a long list of performances from, at the time, unknown artists who then went on to have incredible careers, including Adele, Florence + The Machine and The Vaccines. Get It Loud In Libraries provides music provision to areas often missed on major tours and exists to 'make libraries meaningful, useful and enjoyable for young people who hadn't visited in years, if at all' (Stewart Parsons, The Skinny). Juniore's upcoming gig at Birkenhead Library is a unique opportunity to hear the best new alternative pop in an intimate venue that's right on your doorstep.
Tickets for Juniore's gig at Birkenhead Library on 25th April, 2021 are on sale here.
What's Nearby
The Shrewsbury Lodge is a friendly hotel with a relaxed atmosphere and also offers…

0.75 miles away

2therocklands is unique. A modern Bed and Breakfast yet on the edge of 90 acres of…

1.61 miles away

Four star boutique hotel in picturesque Port Sunlight village on the beautiful Wirral…

2.55 miles away
Previous
Next