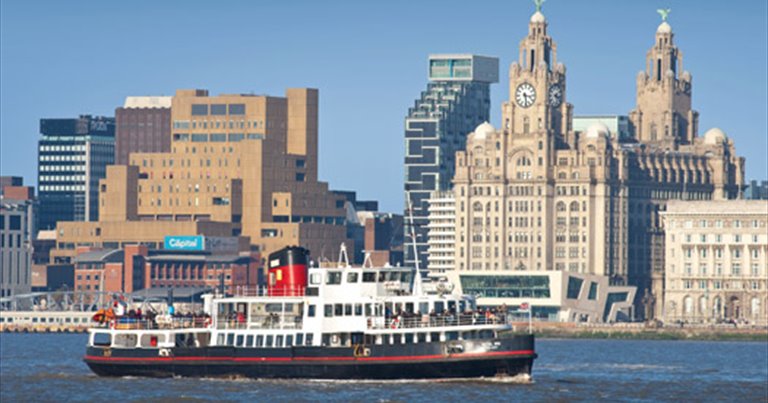 Ferries
Across the Mersey
The Mersey Ferries
The world famous Mersey Ferries have more to offer than just a quick trip across the Mersey.
The River Explorer Cruise - Ferry 'cross the Mersey.
Take a 50-minute cruise on the River Mersey and see the spectacular view of the Liverpool waterfront.
The River Mersey has an incredibly rich and varied history, and the ferry service is itself more than 850 years old. Whilst on board you can enjoy a fascinating commentary detailing the interesting history of the ferry and the Mersey. Until 31 December 2018 you can hop on board the country's only Dazzle Ferry – Mersey Ferries 'Snowdrop' is covered in eye-catching motifs designed by Sir Peter Blake. There's an exhibition on board too where you can learn more about the role of Dazzle Ships and the role that the Mersey Ferries played in World War One.
The River Explorer Cruise operates hourly from Pier Head (Liverpool), Seacombe and Woodside terminals. You can start your journey at any terminal, and a return ticket allows you to break your journey at any terminal and rejoin the cruise later in the day.
Housed in the ferry terminal building at Seacombe is Spaceport, a family attraction which takes visitors on an intergalactic journey through space. Walk through the six space-themed galleries, take a ride on the cosmic coasters space ride and take in a spectacular show in the 360 degree dome theatre. For the latest exhibition information, please visit the Spaceport website.
Mersey Ferries also operates a Manchester Ship Canal Cruise, which is a truly memorable journey along the 35-mile stretch of canal. Including a lively commentary, revealing insight into the facts, history and drama of one of Britain's major waterways. The six-hour cruise departs from both Seacombe and Pier Head (Liverpool) and from Salford on selected dates from April to October. The refurbished vessels provide excellent facilities including a licensed bar and servery selling refreshments and snacks throughout the cruise.
View the amazing life on board a real German U-Boat. With original film archive and interactive displays you will witness all the dramatic action. U-Boat Story is a £5m attraction telling the story of World War II German submarine U-534. At U-Boat Story, you will be able to look into the U-Boat, now in four sections with glass viewing partitions, and view its amazing interior and discover its surprisingly well preserved artefacts including a rare Enigma machine. Through the exhibition's interactive and audio-visual exhibits you will gain a unique insight into life on board a submarine during wartime, and the enduring mystery of U-534. Entry to U-boat Story is now free as part of your Mersey Ferries River Explorer Cruise ticket.
Tags: Mersey Ferries
Search Attractions & Activities