Wirral is well-known for its high quality independent food producers and retailers, including Wards fishmonger in Birkenhead, Lewis's Butchers and Delicatessen in Greasby, and Colin Lunt Greengrocers in West Kirby, to name just a few. But there is a great diversity of small businesses out there, providing an important role in their communities. 
We're celebrating the independent shops that make Wirral high streets so special, many of whom have gone above and beyond throughout difficult times. 
Responding to a call from Wirral Council, hundreds of Wirral residents recently nominated shops across the borough as their 'High Street Heroes'. In total almost 500 nominations were submitted for more than 100 businesses, ranging from greengrocers and butchers, to a bike shop, pet shop and hairdresser.
17 of these businesses are now signed up to be the faces of Wirral's #shopsafeshoplocal campaign. We would like to introduce you to some of them below. 
All photography for the High Street Heroes campaign was taken by Deana Kay Photography, based in Hoylake. https://www.deanakay.co.uk
The Village Shop, Heswall

A candidate for the prettiest business in Wirral, The Village Shop in Heswall distributed leaflets to residents and pulled together a group of  volunteers to deliver shopping. Owner Caroline Cartwright: "One of the special moments was when a customer told us that an elderly lady she knew cried when she received our leaflet saying we would deliver. She said it was like someone giving her a lifeline. Another lady from outside the area pleaded that there was no-one at all who would deliver to her.  She now comes in every few weeks and tells us she will never forget how we helped her. It hasn't been all plain sailing though. We left a parcel at one place and the local cat ran off with the sausages! The help, kindness and support that everyone has shown to each other is so uplifting. I believe we will come out of this stronger and more caring - about each other and what really matters".
Tower Stores, New Brighton 

The business that received more High Street Hero nominations than any other was Tower Stores convenience store on Seabank Road. As well as delivering shopping and collecting/topping up gas and electric cards for customers, the business - a firm favourite of Sir Ken Dodd whenever he played at the Floral nearby - provided 1,700 free meals to NHS staff and key workers. Owner Divyesh Patel was born in the Gujrat state of India and moved to the UK in 2003. Used to living near the sea front, he chose New Brighton as place to settle. He said: "When my family moved to UK, the New Brighton community welcomed, supported and loved us. So when COVID came along, I believe it was our moral duty to give back to our community. I feel blessed with love and so proud that our customers nominated us to be a High Street Hero". 
The Bike Shop, Moreton 

With the majority of the population staying at home during lockdown, the need for exercise became even more important. As lots of people turned to cycling, The Bike Shop soon discovered a growing demand. Exempt from the government's forced retail closures, the shop chose to stay open and quickly implemented safety guidelines to make sure Wirral's residents could stay on two wheels during lockdown. The store also offered a fast-track repair service for any key workers who rely on their bike to get to and from work.
Boysenberry Catering & Deli, New Ferry

Boysenberry Deli was a prime example of a business adapting during COVID-19. Prior to lockdown, the Deli on New Chester Road had just employed their first member of staff and had catering commitments for Aintree Grand National, local festivals and restaurants. But when the pandemic hit, they quickly reacted to offer a home delivery service, teaming up with the butcher next door, Edge and Sons. Such was demand, Boysenberry called in help from furloughed 'chef friends'. Owner Emma Wombwell: "We now have a real place in our community and have built many relationships with people that we didn't know before".
Neil and Maria Kershaw Newsagents, Egremont

Neil and Maria Kershaw epitomised the 'can do' spirit that many of Wirral's businesses demonstrated when faced with a global pandemic. The convenience store on King Street did fundraising and teamed up with local group Foodfight to get goods from supermarkets that were either short-dated or slightly damaged, which they distributed for free to residents who were struggling. Owner Neil said: "It was a fantastic team effort. We even received a £500 donation from a local resident who wanted to do their 'bit'. Gestures like this have invigorated our efforts to help our great community".
M&A Weinronk, Pensby

When news of a national lockdown arrived, demand surged at pharmacies as customers stocked up on medication, hand gel and, you've guessed it, toilet rolls. But the need to deliver medication became a priority for M&A Weinronk in Pensby, which will celebrate its 50th birthday next year. Owner Tee Weinronk: "Once lockdown happened and the over 70s and vulnerable people were told to shield, we decided to dramatically increase the number of deliveries so patients didn't have to leave home. This was done in conjunction with Wirral University Teaching Hospital who provided drivers. Although organising this was a huge logistical undertaking in a short space of time, it came as a relief to so many people. Our fantastic staff worked long hours to make sure the people of Pensby got their medicines".
K&N Fresh Veg & Fruit, Birkenhead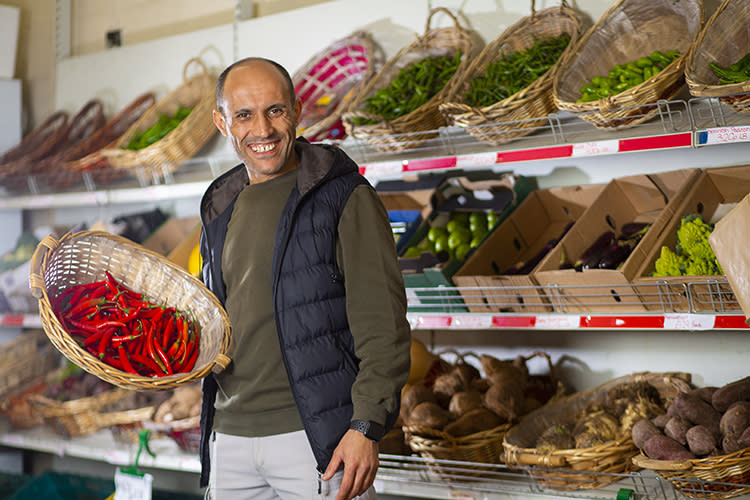 K&N Fresh Veg and Fruit, situated on Quarrybank Road, did home deliveries to shielding residents and organised a 'click and collect' service so customers could receive their boxed orders without having to get out of their car. The shop stocks a huge range of local seasonal and Asian produce and prides itself on offering the personal touch to its customers. Owner Kazem Kohnechi: "We want our customers to come in, have a chat and feel uplifted. We love what we do and we're always happy to answer questions, perhaps even give a few cookery tips too!"